08.16.2015
Garment Industries' new anchor: atelier mark vaghei designs a cornerstone for the Garment District
Westwood, CA
ateliermarkvaghei (www.atelierv.com) was tasked with designing a mixed use structure which would serve as the primary anchor at the entry point to the Garment District of Downtown , Los Angeles at the corner of 9th and San Pedro.  The primary program for the building would be to house the garment manufacturers.  However, the building was tasked to be more than just a place for wholesale garment sales and manufacturing; it was to include restaurants, food court, offices, lofts and entertainment making it a destination and a hub for the community.  Utilizing an almost 61,000 sf corner irregular lot, atelier mark vaghei's proposal was a a 4 story complex with 2 levels of subterranean parking garage.  "We conceptually thought of our proposal as a solid rock with cracks strategically placed to allow for entry and exit alignments as well as a courtyard which would house the vertical transportation"  Says Mark Vaghei, AIA , atelier mark vaghei's founder and principal.  why a Rock? you may ask? The entire building was conceived as being inwardly oriented with the exception of upper floor offices and restaurants which would have windows toward downtown views.  This by necessity reduces window exposure at the perimeter and provided an opportunity to treat it as a solid.  "We wanted to avoid a massive blank structure on the outside, so we provided it with a perforated stainless steel veil to reduce its apparent mass and provide for porosity and lightness" says Mark Vaghei, AIA
The project has entry and exit points at the ground level which align themselves with current foot traffic patterns within the garment district while maintaing the corner of 9th and San Pedro as a valuable lease space for a potential anchor tenant requiring maximum exposure.  All the loading and parking entry for the structure is off of 9th street which was considered by the owners to be the least desirable side of the project from a retailing and exposure view point (at least for now).  The fourth and top floor of the building is entirely allocated to restaurant/food court space which would be used by building users as well as outside patrons.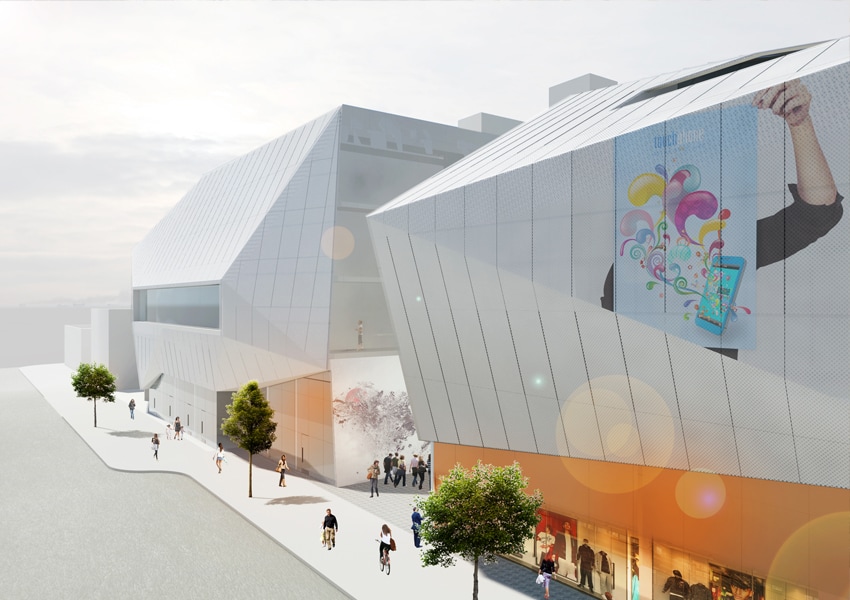 The structure of the building is post-tension-ed reinforced concrete with minimum 15 foot floor to floor heights on levels 2 through 4 and a minimum 20 feet floor height on the ground floor allowing for mezzanine space.
The project is going through planning dept. review process and entitlements and is slated for construction in early part of 2018.  atelier mark vaghei would like to thank Raha Lakes Enterprises and Mr. Kayhan Shakib for their vision  in allowing atelier mark vaghei to push the architectural envelope in an area otherwise dominated by extremely poor planning and architecture.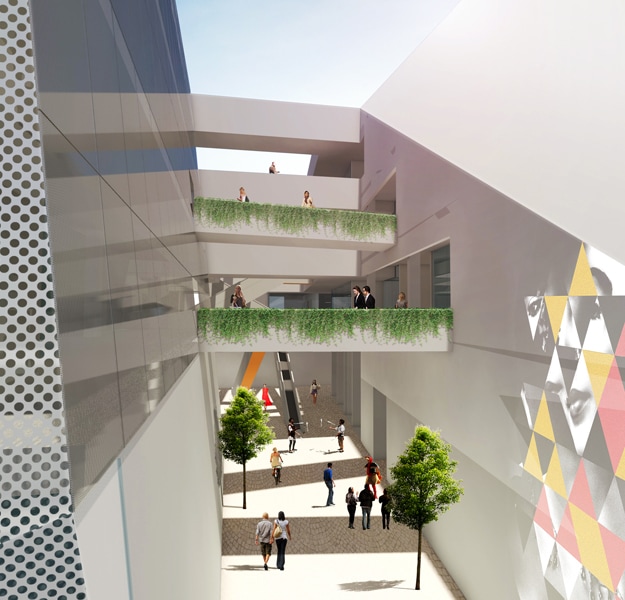 Please visit our site at : www.atelierv.com for a complete summary of this project and other projects.