03.06.2015
Modernity in American Tuscany: atelier V completes the design of Deercreek Residence in Los Altos Hills, California
Westwood, CA.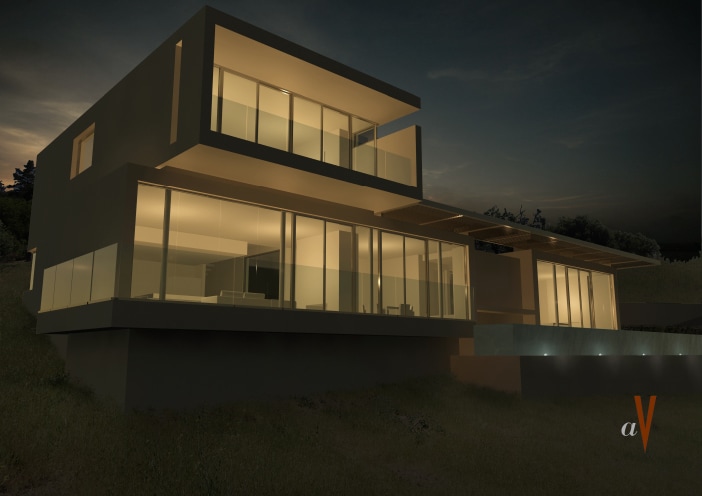 atelier V (www.atelierv.com) was challenged to design a modern 5,600 sf house in the Los Altos Hills in Northern California.  "When I first saw the site, it reminded me of the outskirts of Florence, Italy" Says Mark Vaghei, AIA , atelier V's Principal in Charge of Design.  The site is over an acre with a relatively steep slope with beautiful view of the surrounding mountains.
The challenge that the site presented was its grade and the strict zoning regulations of the area limiting the available height and the amount of grading, etc. "I did not want to enter the house from the down-slope side of the structure and climb a stair to get to the main level with views, instead I wanted us to be able to arrive at the living areas mid-level and go up to the bedrooms, this meant that the entry drive had to be above the living room mass " says Mark Vaghei, AIA.  This automatically turned the design Parti to a connected multi structure compound.  The living areas and the kitchen would be in the lower bar and the children's bedroom would be on the upper bar in the back and over the garage mass, while the Master Bedroom acted as the connecting mass tying everything together.
The project uses a combination of stone cladding, cement plaster and Fiber Cement Panels all in color white to accentuate its presence on the green hillside.
To see a complete pictorial of the project, please visit: www.atelierv.com