07.02.2012
atelier V plans big for Downtown's Arts District
atelier V's proposal up against other notable architects'
Westwood, California.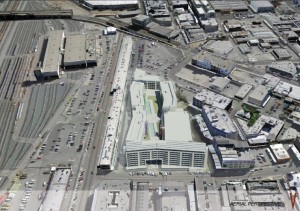 atelier V : architecture (www.atelierv.com) has been invited to submit a proposal for one of  Art District's last remaining large parcels, a 5.5 acre vacant property immediately adjacent to SCI-Arc's west side in what promises to be one of Downtown Los Angeles's largest and most exciting projects since the recent economic downturn.  The Invitation was for a limited planning exercise which included other notable architectural firms.  The goal of the Client was to invite ideas at the master planning level for the site with an entitlement program already in place .  The Program consisted of 472-units of studios, one and two bedroom apartments mixed with a commercial component and other added amenities. "Other than the number of units and some basic size parameters, we were left to our own devices to establish an overall program, so, it really was about presenting a vision of a new place" Says Mark Vaghei , AIA , atelier V's Principal in charge of design.
The project is located in Los Angeles Arts District.  The Downtown Los Angeles Arts District, previously known as the Warehouse District, occupies the eastern side of Downtown Los Angeles. Its borders are roughly Alameda Street on the west, the 101 freeway on the north, the LA River to the east, and 7th Street to the south. The area is sometimes referred to as the "Artist" or "Artists District" on official City of Los Angeles signs.  The Arts District is filled with older industrial and former railroad buildings. In 1981, the City of Los Angeles passed its "Artist in Residence" or "AIR" ordinance, which allowed residential use of formerly industrial buildings.  Recent gentrification has swelled the population, bringing new residents, many of whom are young professionals, to the area. They reside alongside the veteran resident artists and still-functioning industrial and manufacturing businesses.  Loft-style apartments and condos in restored industrial buildings now dot the landscape, but the Arts District is still home to a major rail yard, cold storage, warehouses, food processing, furniture and fashion design/manufacturing, personal storage, government facilities and film locations.  It is also home to thousands of resident artists in live/work spaces that support creative entrepreneurial businesses and non-profits. In addition, the district is home to the Southern California Institute of Architecture (SCI-Arc), a prominent school of architecture, and the Los Angeles offices of the Daily Journal, California's legal daily newspaper. Well-known restaurants, such as Wurstkuche, Americano, R23, Church & State, Urth Caffe, Villains Tavern and Tony's Saloon are located in the Arts District, shoe and apparel line Royal Elastics along with a variety of eclectic shops and galleries.
The District is now at a critical junction.  It can go the way of uncontrolled suburban style development or it can become another SOHO, or  SF South of Market or a different version of Downtown Santa Monica.  In the process of planning for the site, atelier V staff conducted a lot of informal interviews with local residents to get a feel for their likes and dislikes and what attracted them to the Arts District to begin with. "Our limited research was quick to tell us that the residents are very annoyed at lack of proper planning by the developers of the newer residential units" Says Mark Vaghei.  One resident who we met at the Wurstkuche(the local exotic sausage joint) was adamant that all new residential developments in the immediate area are devoid of character and are what he called "Dead" at the street level.  Our tour of the area confirmed this fact.  The newer buildings are designed to be inwardly oriented with no street life.  They are almost suburban in nature, as though one picked them up from somewhere and planted them in the Arts District with no regards to the history, culture and dynamism of this context, in effect killing a large part of the street life in the area.  This therefore,  was to be avoided.
The Challenge to us at atelier V was primarily: " How do you plan for 650,000 sf of new space in a quickly gentrifying neighborhood without looking alien? " Says Mark Vaghei.   So, we went back to the basic ideas of urban planning, like "Urban Edge" , "Mid-Block crossings", proper massing, human scale and life at the street level, all cliches which needed to work here!  All of this needed to be intertwined with the requirements of vehicle circulation, fire department access, city's parking requirement and a myriad of other regulatory and financial constraints. "Mega complexes are never easy.  They have the danger of looking institutional and sterile.  They can also look suburban, like many do. The result has to be a careful balance of everyday conveniences such as having access to your parking space as quickly and easily as possible,  and making the transition to an urbanized,  mass transit oriented, more densified urban realm." Says Mark Vaghei
atelier V's big idea was to densify the site to allow for as much open space as possible.  Additionally, the open space had to be singular in nature for maximum effect instead of a series of smaller courts.  On the other hand, the economics of the development demanded that the buildings be built out of wood where possible.  Taking advantage of the new codes on Type III construction which allows 5 levels of wood over a concrete podium, it was decided early on that as many buildings as possible would be this prototype.  This in turn allowed for surface parking below the podium which made guest parking and vehicular access to elevator lobbies very convenient.  Additionally it allowed for amenity spaces  to take up room on the ground floor , below the podiums.  Communal Artist Galleries, Business Center, Cafe, Leasing Office, Gym and other ancillary uses were nestled on the ground floor flanking the open space.  While the podium buildings flanked the north-south axis of the open space, the balance of the program was divided into an 8-story type I building at the far north end of the site contributing to the urban edge on East Third Street, and a 5 story wood , on grade structure at the far south end of the site.  The least desirable part of the site backing into an existing tall mini storage building was allocated to a 6 level parking structure.  The location of the parking structure makes it conveniently accessible to all building lobbies.  The parking issue is always a dilemma.  Early in the brainstorming of the project, the idea of one or two levels subterranean parking was contemplated and dismissed.  Underground parking was deemed undesirable for many reasons.  One, its would be dark and sprawling, dotted with columns and elevator lobbies making it difficult to navigate and enter and exit especially during the heavy traffic morning and afternoon hours.  Two, it would require almost 200,000 cubic yard of soil export, not to  mention costly shoring and waterproofing requirements.  Third, you would end up with a vast amount of concrete surface which would make it difficult and costly to do proper landscaping and mitigate urban run-off, opposite of what we were setting out to achieve . On the other hand , an above ground parking structure could be built for less, would have natural light and ventilation and would be easier to get in and out of  and would make almost the entire rest of the site available for on-grade landscaping, enhancing the project's micro-climate and reducing urban run-off.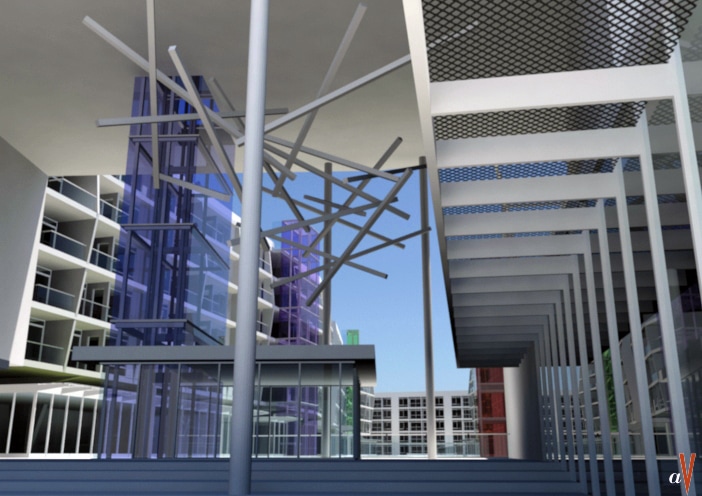 The almost 600 feet by 110 feet open space created, now had to converse with the outside world and it was important for it to connect to Third Street.  An almost 70 feet wide by 4 story high hole was punched through the 8-story building on third with its elevator shaft running through it.  This hole acted as a gate way to the open space quad beyond.  Through this hole, pedestrians could now travel through the site to connect from Third to Traction avenue and beyond.  Pedestrians and residents while going through the vast open space would experience cafes, artist galleries, an outdoor theater and a sculpture garden.   Communal Artist Galleries and the sculpture garden would be provided free of charge to local aspiring artist to display their work.  The aspiring young movie directors would be welcomed to screen their films at the outdoor theater.  This space would further serve as an outdoor gathering space for concerts and events.
To liven up the Third Street edge, the entire ground floor of the 8-story building on third was devoted to commercial uses.  On one side would be a Market, perhaps a Trader Joes, on the other side would be a cafe, a dry cleaners, a bagel shop, with outdoor seating to enliven the street and the hole through the building into the open space.
The architecture of the proposed buildings have not been decided on yet as this was merely a planning exercise. However, the framework has been established for the structures to communicate and have a dialogue with the negative space.  It is clear from atelier V's research and talking to the neighborhood that the the current stock of new architecture in the area is not desirable and a new , more progressive approach has to be taken.  We feel that the negative space should take center stage and the architecture on the buildings should be more in the background.  We feel that activity and life must replace non-sense decoration and non-descript structures.  Cheap imitations of historical details must give way to innovation.  This is the challenge ahead of us.  To create the sense of a place  and act as a generator to reverse the negative trend of sub urbanization of the Arts District.  We believe that we have taken the first step.
atelier V would like to thank Messieurs Surjit Soni, Dilip Bhavnani, Greg Anderson and Juan Paredes and Madam Milena Soni for their vision and the opportunity they have awarded atelier V to be a part of such an exciting project.  Additionally , atelier V would like to thank Legendary Investments and Associated Estates as organizations initiating this effort.
Program:
6-Buildings , 6-8 levels each, Total Area: 655,000 SF.
Parking: 715 spaces (180 surface)
Credits:
Elise McCurley 3D Artist/Junior Designer
For more pictures of atelier V's Proposal for The Commons go to : www.atelierv.com Projects/Residential/The Commons
COPYRIGHT  C  2012  Please note:  All concepts,diagrams, design studies, renderings and images on VEWS and or www.atelierv.com are either copyrighted or pending.  Any reproduction of this material without express written consent of atelier V, Inc. is strictly prohibited.