06.15.2012
atelier V competes for MCCN Outpatient Care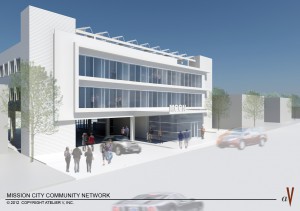 atelier V : architecture (WWW.atelierv.com) was recently shortlisted among other prestigious firms to compete for the proposed new 20,000 SF Outpatient Healthcare Facility planned by Mission City Community Network . Mission City Community Network, Inc. (MCCN), is  a non profit community health clinic which has been providing medical, dental and mental health services to the community for over 20 years.  MCCN serves the low-income and uninsured populations in the San Fernando Valley primarily in the surrounding communities of North Hills, Van Nuys, Panorama City, Pacoima, Mission Hills, and Reseda. MCCN also provide service to patients throughout the San Fernando Valley and in Hollywood.  MCCN received it's Federally Qualified Health Center status in 2007 in recognition of the high quality comprehensive care that it provides to the growing  number of uninsured children and adults in the community.
The new proposed facility is a 20,000 SF building which would be constructed on a 36,000 sf lot at 8527 Sepulveda Blvd., in North Hills area of San Fernando Valley.  atelier V's team proposal is comprised of a 3-story type III structure with the elevator lobby and the pharmacy on the ground floor and the entire rest of the program raised on two additional levels.  Parking is provided for 90 cars on the surface parking lot with entry and exit off of Sepulveda Blvd. through and under the structure.  The program consists of patient care services, behavioral rooms, exam rooms, laboratory, dental exam rooms, nursing stations, administrative offices and offices for the executives.
" We really wanted to give the MCCN building maximum exposure by allowing it to span the entire width of the lot.  Raising the building off the ground also amplified our goal while keeping the pharmacy easily accessible on the ground level where it can be reached by the patients and public at large" Says Mark Vaghei , AIA, atelier V's Principal in Charge.
The proposed building will be a LEED Silver status project with all the bells and whistles including but not limited to Solar Panels on the roof.  THe entire facade of the building is cl added with corrugated  and smooth metal panels giving it a crisp profile.
atelier V wants to take this opportunity to thank all the team members who contributed to this proposal and also thank Mr. Jerry Scharlin for inviting atelier V into the process and his kind words.
atelier V hopes to hear positive results from MCCN's Board of Directors regarding its proposal in the near future.
For additional photos of this project and other projects by atelier V, please visit : www.atelierv.com go to /projects/commercial/MCCN